When we talk about toy-class drones, none represent the label better than a nano drone. These mini flying quadcopters are often smaller than the palm of your hand, and elicit laughter as they buzz around your living room. These are easy gifts to give to others, fun toys to learn from and an inexpensive way to safely get into the hobby. Lets get, which are best nano quadcopters?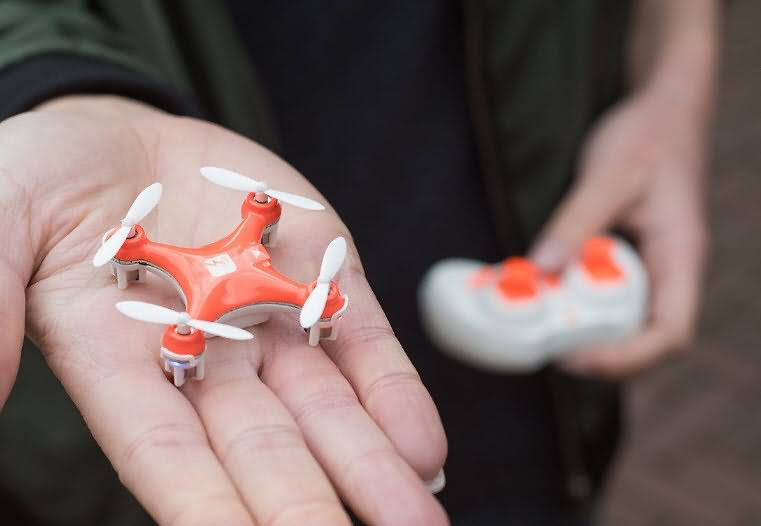 As you might imagine, there are quite a few of these tiny drones out there, ready to drive your house pet insane. Join us as we explore some of the better options, some of the best nano drones available today.
The best part about these nano drones is that none exceed the 0.55 lb weight limit imposed by the FAA. You will not have to register these things. The downside, they are so small that you are almost stuck to flying indoors. The ones we've tested are fairly crazy little things, they'll be all over the place as is, you don't need wind causing extra difficulty.
For the most part, you are looking at inexpensive toys with very few offer flight assistance features, this is all skill. They are usually fairly under-powered as well — they'll zip around fast enough, but you're not likely to take off with a camera, for example, and they are likely not strong enough to fight a little wind.
I cannot rightly call any of the nano drones on our list 'tools,' they are all toys. Having said that, let's go have some fun.
Know before you fly: These drones may not ned to be registered with the FAA before flight, but you still need to follow the rules of the sky.
Hubsan H111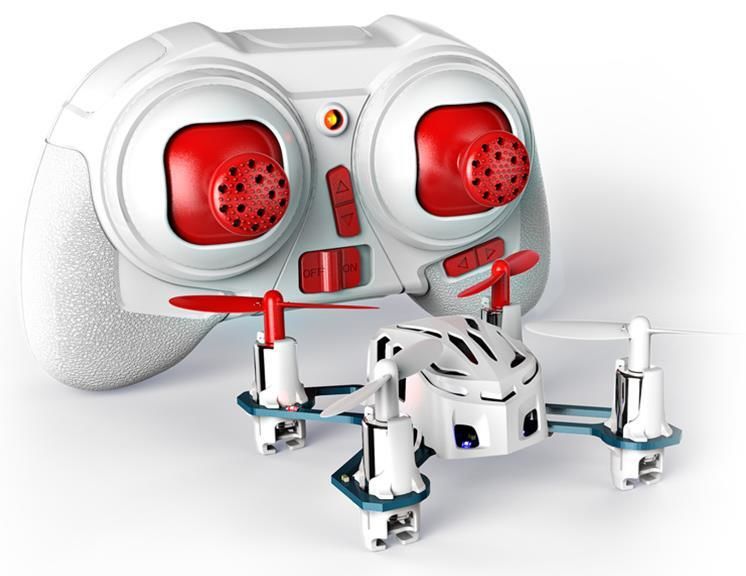 One of our favorite drones for flying around the house is the tiny Hubsan H111. This is an entry level toy drone that usually sells for around $20. It flies quite well, all things considered, and is a superb machine to practice on during the winter months or before you dive into a larger machine. The built in battery only provides about 5 minute of flight time, there is no camera and no fancy flight features, it's a raw flight experience – which is what we love about it. May be this model can be best nano quadcopters?
Syma X12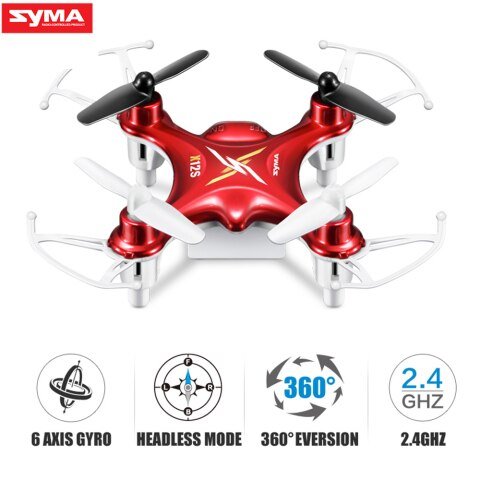 The Syma X12 nano drone is a tiny machine that easily fits in the palm of the hand. This drone, as with most in this size-class, is a very simple flier, offering almost no flight features or stability, just a couple simple navigational joysticks and some prop guards. You can fly machines like the Syma X12 outdoors, on a calm day, but they are best for indoor flight. With just around 5 minutes of flight from the built-in battery, the X12 is on par with most nano drones, all of which are fun little aircraft that are great for first time pilots to safely get some stick time.
Cheerson CX-10
Eachine E010
Eachine makes many toy-class drones, and the smallest of the bunch is the Eachine E010 nano drone. As a fun little nano drone, you're best to fly in the living room, however, there are three speeds to choose from, with slow and medium handling well indoors, you might want a calm day int he backyard for fast mode. The Eachine E010 may well be the most resilient drone in our nano drones list, the hefty prop guards offer collision protection, which is a life saver for those tiny props. In my opinion, this one can't be best nano quadcopters, but it's IMHO.
UVify has a rich history in drone racing. They understand that future racers need to start somewhere, developing the UVify OOri as a fantastic beginner's race drone. Slow and stable for practicing in your living room, this machine can open up to over 50MPH when you want to win a race. Agile, light-weight, and fast, the UVify OOri is great for beginners on a budget.
There may be less expensive beginner drones out there, but if quality is of concern to you, the UVify OOri for $295 is hard to beat in the segment. In my opinion, this nano drone looks incredible! And this model may be best nano quadcopters
Nano drones are fun little toys
That's all we'll look at today folks. We know there are many, many nano drones on the market, just hit your local electronics store, or grocery store for that matter, and you're likely to find a flying toy able to fit in the palm of a child's hand.
Due to the basic abilities of these little fliers, you are best to look for quality parts more than a known brand. Many of these small drones are cheap drones. Motors burning out and poor connectivity are one thing, but poorly constructed cables and connectors pose fire hazards, please monitor your purchase and consider purchasing a LiPo bag for safety. I use Apex RC Products Lipo bag for $12 on Amazon for best nano quadcopters.
In the end, these are hugely fun little machines. They are very safe for most children to fly, respecting the posted age limits, of course. The real thing here, most of the toys in this segment are made to be disposable – very hard to repair, possibly no parts to be found and made of simple materials. We hope our recommendations serve you well, and please fly safe in the house.
What is you favorite best nano quadcopters?
Frequently Asked Questions about Nano quadcopters
Can I fly nano drones outside?
Of course you can, just be aware of local flight laws, and of the wind. In most countries, if your drone weighs 0.55 lbs, 250 grams, or more, it must be registered before flight, and there are strict rules to follow in the air. Best nano quadcopters weigh less than this, they will not require registration, but are still subject to the flight laws. None of the nano drones on our list are able to fly 400 feet in the air, so they won't be breaking that law at least. Otherwise, these are tiny, low powered machines that will struggle greatly in the wind, we recommend only flying on a very calm day.
Can I use a nano drone as a spy drone?
Yes, maybe. The fact of the matter is that the quad-copter design is a noisy one. The tiniest of drones make a lot of noise as the motors spin up and the propellers move a ton of air to attain flight. If your operation depends on stealth, I do not recommend a quadcopter at all. Further, these tiny drones usually do not have a camera. If you grab a nano drone with camera, and are operating where noise is of no concern, you're in business.
Are nano drones any good?
As always, the value of a drone depends on your intended use. For us, we love our $20 Hubsan H111, we fly it indoors all the time. Thing is, these flights are just for fun, and to hone our skills with the sticks. The battery only lasts a few minutes and the machine is not overly resilient to crashes, so our use is pretty much limited to being a fun distraction once in a while. To us, that's a good drone, but if you need anything more out of your machine, consider something a little more substantial.
Will nano drones need Remote ID?
Please keep in mind that most of these nano drones are made to fly indoors, and the FAA has no jurisdiction inside of buildings. If you do plan to fly outdoors, and purely for fun, you probably won't need Remote ID. That changes if you will be compensated for your flight, which is a Part 107 operation, requiring licensing. be sure to check the Remote ID rules for more details.