It's frustrating to find DJI drones everywhere So, you may consider whether there are drones available that are superior to DJI alternative at the same price.
As a long-term reviewer for different drones I compiled the following list of alternative DJI drones that will meet any need and offer advantages compared to the drones that the DJI technology giant commercializes. In particular, with the latest DJI releases like the brand new Mavic 3 it can be difficult for competitors to remain in the same league, but there are some excellent or better alternatives available.
Here are the list of drones that can be better for you than DJI:
Autel Evo 2
Hubsan Zino Mini pro
Parrot Anafi
SJRC F11 4k Pro
PowerVision PowerEgg X
Emax Tinyhawk 2
Potensic A20
Ryze Tello
Skydio 2
Table comparing DJI alternative drones
| Drone | | | Footage Score | Battery life | FPV Range | Video Res | Photo Res | MP | Bitrate | RAW photo | HDR Photo | HDR Vid | Aperture | D-log | Sensor Size | Live Feed | Gimbal | Max Speed | Max Wind | Temperature | GPS | Max Altitude | Return Home | Obstacle avoidance | Optical flow sensors | Follow me | Under 250 g | Weight | Zoom | EIS |
| --- | --- | --- | --- | --- | --- | --- | --- | --- | --- | --- | --- | --- | --- | --- | --- | --- | --- | --- | --- | --- | --- | --- | --- | --- | --- | --- | --- | --- | --- | --- |
| DJI Mini 2 | | | 9 | 31 min | 10 km | 4k | 4k | 12mp | 100 Mbps | yes | no | no | f/2.8 | no | 1/2.3" | 720p | 3 axis | 16 m/s | 10.5 m/s (Level 5) | 0° to 40°C | GPS GLONASS GALILEO | 4km | yes | no | yes | yes | yes | 242g | 2x | no |
| Mavic Air 2 | | | 9 | 34 min | 10 km | 4k 60p | 8k | 48mp | 120 Mbps | yes | yes | no | f/2.8 | yes | 1/2″ | 1080p | 3 axis | 19 m/s | 10.5 m/s (Level 5) | -10° to 40°C | GPS GLONASS | 5km | yes | yes | yes | yes | no | 570g | 2x | no |
| DJI Air 2s | | | 10 | 31 min | 12 km | 5.4k/ 4k 60p | 8k | 20mp | 150 Mbps | yes | yes | no | f/2.8 | yes | 1" | 1080p | 3 axis | 19 m/s | 10.7 m/s (Level 5) | 0° to 40°C | GPS GLONASS GALILEO | 5km | yes | yes | yes | yes | no | 595g | 4x | no |
| Zino Mini pro | | | 9 | 40 min | 10 km | 4k | 8k | | 200Mbps | yes | yes | no | f/1.85 | | 1/1.3" | 1080p | 3 axis | 16 m/s | 10.5 m/s (Level 5) | -10° to 60°C | GPS GLONASS | 4km | yes | yes | yes | yes | yes | 249g | 6x | no |
| Autel Evo 2 | | | 10 | 40 min | 9 km | 6k/8k | 8k | | 120Mbps | yes | yes | no | f/1.8 | yes | 1" | 1080p | 3 axis | 20 m/s | 17m/s (Level 8) | -10° to 40°C | GPS GLONASS | 7km | yes | yes | yes | yes | no | 1150g | 8x | no |
| Swellpro Spry+ | | | 8 | 17 min | 0.5 km | 4k | 4k | 12MP | 64 mbps | no | no | no | f/2.65 | no | 1/2.3" | 720p | 1 axis | 18 m/s | | 0° to 40°C | GPS | 0.5km | yes | no | yes | yes | no | 538g | | yes |
| Parrot Anafi | | | 9 | 25 min | 4 km | 4k | 5k | 21MP | 100 Mbps | yes | yes | yes | f/2.4 | | 1/2.4'' | 720p | 2 axis | 14 m/s | | -10° to 40°C | GPS GLONASS | 4.5km | yes | no | yes | yes | no | 320g | 3x | yes |
| Xiaomi Fimi X8 | | | 9 | 33 min | 5 km | 4k | 4k | 12MP | 100 Mbps | | | | f/2.2 | | 1/2.3" | 720p | 3 axis | 18 m/s | | 0° to 40°C | GPS GLONASS | 4km | yes | no | yes | yes | no | 790g | | no |
| Tello | | | 6 | 12 min | 0.1km | 720p | 4k | 5MP | | | | | | | | 720p | none | 8 m/s | | | no | 0.1km | | no | yes | | yes | 80g | | yes |
| SJRC F11 4k Pro | | | 8 | 26 min | 1.2 km | 4k | 4k | 12MP | | no | no | no | | | | 720p | 3 axis | | | | GPS GLONASS | | yes | no | yes | yes | no | 565g | | yes |
| Skydio 2 | | | 9 | 23 min | 3.5 km | 4k 60p | 4k | 12MP | 100 Mbps | yes | yes | yes | f/2.8 | no | 1/2.3" | 720p | 3 axis | 16 m/s | 11.1 m/s (Level 5) | -5°C to 40°C | GPS GLONASS | | yes | yes | yes | yes | no | 775g | | no |
Video with the best DJI alternatives
You know, there are a lot of videos about best DJI alternatives, but I find a very interesting video. This guy presents some of the best alternatives to DJI and why they're all great. I completely agree with his views and perspective on the matter.
About DJI drones
DJI is the world's leader in drone for civilians as well as aerial imaging technology and innovative camera technology. The company is committed to making the equipment for filmmaking and aerial photography along with platforms easier to access and simpler to use for filmmakers across the globe. These products are utilized every day by users from over 100 countries to assist with filmmaking and construction, as well as for inspection as well as agricultural emergency response conservation, and much more.
DJI quadcopters are arguably the most popular and well-known drone on the market today. These devices have revolutionized aerial photography, videography, mapping, and other similar activities.DJI has developed a number of different models designed for a variety of purposes – from beginner to professional users. In this article, we will provide an overview of DJI drones and their various features so that you can make an informed decision about whether or not they're right for you.
DJI drones are a great choice for anyone looking for an easy way to get excellent aerial footage and photos. They are easy to use, have a range of capabilities, and are very durable.
Who is DJI's biggest competitor?
If you're wondering if other companies are able to be able to compete with DJI there are a few that are able to stand out.
The main competitors for DJI are firms Autel, Yuneec, Parrot and most recently Hubsan which are dipping their toes into the field of professional drone and developing drones that have similar technology similar to DJI.
DJI is at the cutting edge in drone technology and a lot of other companies are copying key aspects of the technology DJI is equipped with.
What are the best DJI drone alternatives?
Most drones have basic flight operations handled through the remote control, then they have fancy camera and self-piloting modes controlled through the app on your phone or tablet.
Let's review of the top DJI drone alternatives and what their functions is. Of course, none are better than DJI but they're all at a minimum equal.
Hubsan Zino Mini Pro – Best DJI Mini 2 alternative
It's the DJI Mini 2 is an amazing drone, therefore it's quite difficult to find a better model with a weight of less than 250 grams. However, now , there's a chance.
The most effective DJI Mini 2 alternative is the Hubsan Zino Mini Pro, which weighs less than 250 grams, and has an axis-gimbal with three axes and a "follow me" option. It also improves over Mini 2 by adding Mini 2 by adding forward sensors as well as a 40 minute battery.
It competes with the DJI's Mini 2 specs and beats it by a wide margin, with features like the battery's life span, bigger sensors (1/1.3″ vs. 1/2.3″) and an improved bitrate.
This, theoretically, could result in better photos during low lighting and an improved overall image. You can watch YouTube for a video with more information about the drone.
I also have compared both the DJI Mini 2 vs. the Zino Mini Pro in another article.
Flight time 40 min
Autel evo 2 – Best Mavic 2 Pro Alternative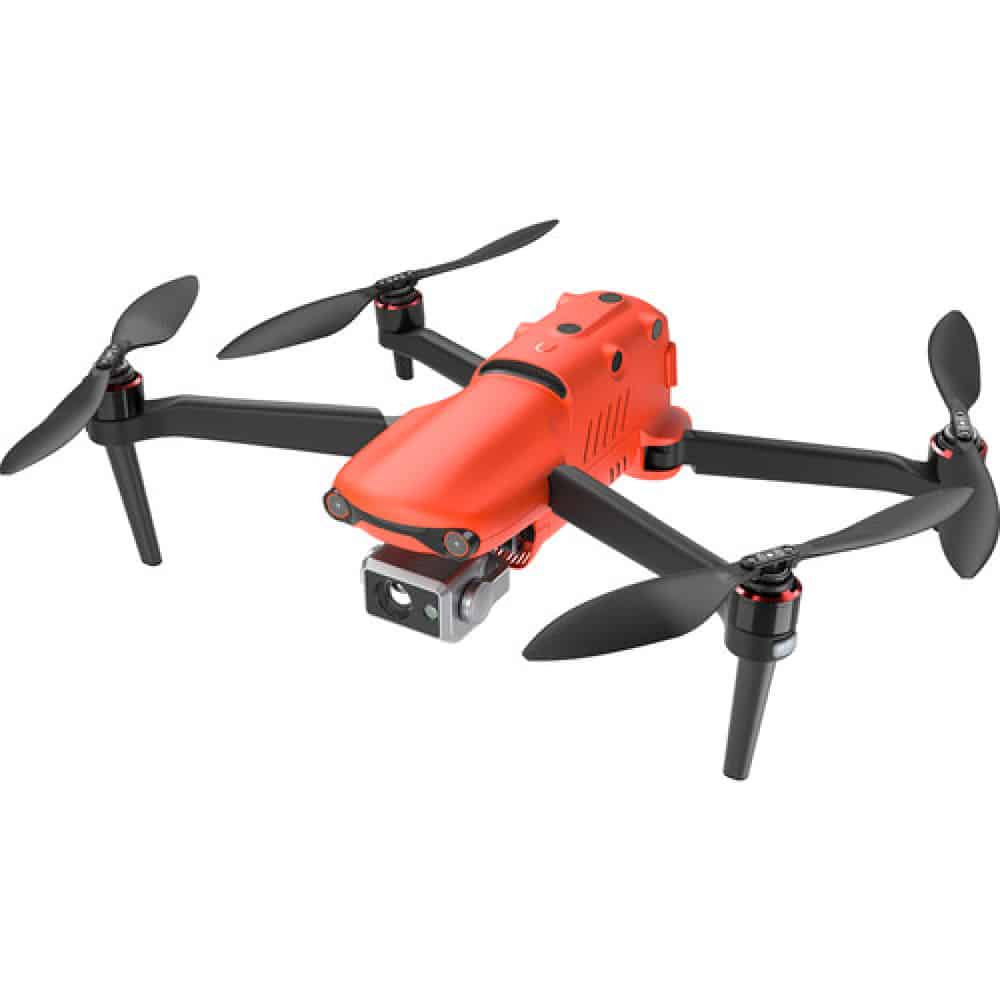 Drone Mavic 2 Pro is a famous model that is the only one with a 1″ sensor that folds, therefore, what's the top non-DJI option?
The most effective DJI Mavic 2 Pro alternative is the Autel Evo 2 drone that has a longer battery longevity (40 minutes as opposed to. 31 minutes) as well as a solid design and the option of zooming with no compromise in sensor size.
It's the Autel Evo 2 though larger than the Mavic 2 however, it's still a compact drone that folds easily by many criteria, but it still flies with extreme precision and uses sensors that can be positioned in many directions, as does Mavic 2. Mavic 2 for obstacle avoidance and precise landing.
The DJI Mavic 2's high resolution and built-in zoom function give certain advantages from the Mavic 2 Zoom but without moving nearer to what you want to see.
The camera is also excellent with its colors being real, with the camera having the ability to shoot 10 bit HDR and the majority of packages come with a wide range of accessories.
Autel is among the few companies to compete head-to-head in image quality against DJI.
Flight time 40 min
SJRC F11 4k PRO – Best cheap DJI Alternative
If you're in search of an affordable camera drone to use as an enthusiast but DJI isn't within your budget, what could be the best low-cost DJI Alternative?
The SJRC F11 4k PRO is the most budget DJI camera drone option that folds and comes with an axis-gimbal with three axes, GPS and is targeted towards those on a budget, but still wanting an excellent camera drone.
After using it in conjunction with other quadcopters that are similar in price I'm forced to say there's no quadcopter that can match it in the price. The gimbal has a decent amount of stability and its video resolution is good and it all is packed in a small package that is built with durable and robust brushless motors.
Its SJRC F11 4k drone is an ideal drone that isn't DJI for those who wish to fly and don't require a high image quality (but do think image stabilization is necessary).
Electronic image stabilization steps in to ensure the footage is smooth, and you can also shoot 1080p in a slo-mo frame-rate of 120fps.
Flight time 27 min
Swellpro Spry+ – Best Waterproof DJI alternative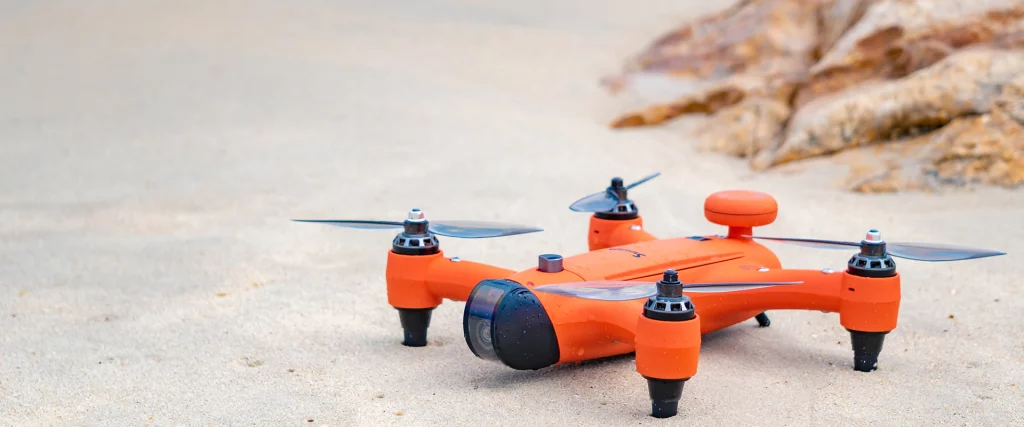 Swellpro Spry+ is probably the most affordable option for waterproofing to DJI. It's not as if you're left with a choice If you're looking for a water-proof drone DJI's not the best option.
The SpryPlus includes an entirely waterproof controller and functions as a GPS drone, however, compared to other drone listed on this list it doesn't come with an stabilized gimbal. The camera stabilizes footage through the use of EIS(electronic stabilized image) and this is a great thing since this makes it lighter and more robust.
The camera transmits 5.8ghz signals back into the remote display It can also be used in conjunction with the help of FPV goggles made of Swellpro (or almost every similar FPV glasses).
It's Spry+ is also able to function as a drone for fishing due to its fishing accessories and you can drop bait when searching for fishing spots.
It includes return home via the control panel, which means you can return it when you're on a boat and move it once you've launched it.
Flight time 17 min
Parrot Anafi – Best DJI Mavic Air 2 Alternative
It's hard to locate an Mavic Air as well as Mavic Air 2 alternatives, as they're among the best drones available however, there's another option worth considering.
It's the Parrot Anafi is considered to be the top DJI Mavic Air 2 alternative. It's produced by the USA and comes with a variety of advanced flight modes as well as an integrated lossless zoom camera which can see over the drone.
Anafi Anafi is quite different because it features two-axis gimbals and the video footage is also electronically stabilized to compensate for the absence of mechanical stabilization on the axis. And the final product ends up looking fantastic overall.
Flight time 25 min
Skydio 2 – Best drones DJI alternative with Follow me mode
If you're thinking that quadcopters are better at tracking as DJI do, then there's a simple answer.
The most reliable DJI alternative that has a follow me mode and improved tracker is Skydio 2. Have an amazing Obstacle avoidance. It's a model designed for use in sports and can track even the toughest conditions because of the 360-degree cameras that provide the total of 45 mp of data in the visual.
It's designed to stay clear of obstructions even in small spaces. This is something even the latest quadcopters made by DJI like the DJI Mavic Air 2s , have an issue with.
The camera shoots at 4K 60p and is similar to the quality that DJI can accomplish. It's still more designed towards action-packed experiences than cinematography. This makes it easier with regards to exposure and camera settings with the Video HDR shooting mode. This allows you to easily achieve the correct exposure.
The camera stabilizes the footage thought the use of EIS (electronic image stabilization) and that's great because it makes the drone lighter and much more sturdy.
Flight time 25 min
Xiaomi Fimi X8 Best Drones of Xiaomi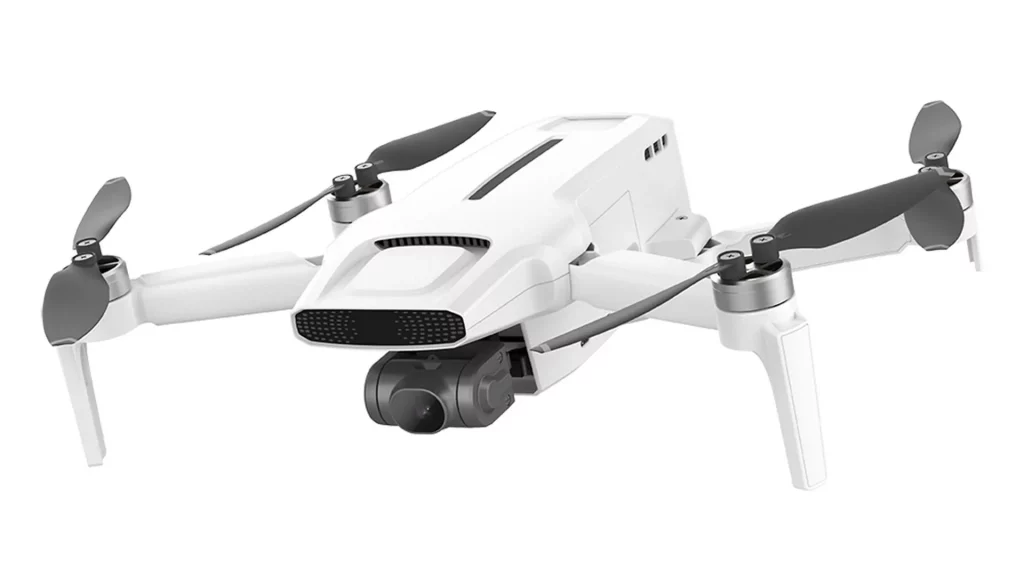 It's the Xiaomi Fimi x8 is among the top quadcopters produced by Xiaomi and is among the major rivals of DJI that has an established track record of producing low priced, high-quality technology. drones aren't left out.
I've tried I tried the Fimi x8, and it is a solidly built drone with a high-quality 4K camera and a long battery life. Although the camera's quality is less than the higher-end DJI model, this beats the majority of quadcopters that are priced in the same price bracket (below $500). In our opinion, it's one of the best drones in our days.
Flight time 33 min (one of the best flight time)
Potensic A20 – Best alternative drone for beginners
Its model Potensic A20 is a straightforward drone designed for those who are just beginning to get a grasp of the fundamentals of indoor flight. It's not equipped with a camera and is designed for crash and trying out cool movements. Take a look at my other drones for beginners on this website.
Toy drones can be a fantastic way to get started with drone piloting. They must be simple to set up, feature simple controls, and be sturdy enough to withstand any knocks that come along as the pilot learns to get comfortable with flying. Quadcopters that weigh more than 250g need owners to purchase an operator's licence and take an online training test in order to fly with a toy drone without cameras, like these, may be operated without restriction right from the packaging (when you're ready to move to the latter then check out our overall best drone rankings for our top recommendations).
Flight time 6 min
Ryze Tello
Ryze is a distinct company apart from DJI. However, it was created by DJI in conjunction with DJI and was among the top sought-after beginner drones of recent years. It even includes cameras.
The first drone to have bottom-facing sensors that allow for steady flight, and even electronically stabilized footage. This is not commonplace in a drone priced under $100.
It's able to take amazing pictures, as I've illustrated in this video on YouTube, and since it is able to fly steadily it's easy for children to make use of their smartphone to understand the basics of flying while taking photos. One of the feature is remote control by phone.
I believe that learning how to fly FPV on a small drone like this is the best way to do it as it is smaller, less expensive, and a lot less dangerous.
Flight time 12 min
How to choose the best drone for you
How do you pick the best drone? The first thing to consider is to consider your budget. This guide is specifically focused on drones with cameras to shoot aerial photography and video and tend to be more expensive than stunt quadcopters for hobbyists.
If you want to shoot in 4K quality, we'd recommend at least $400 or PS400. However, if you're seeking an affordable drone to enhance your flying abilities and not to capture pictures and videos of top quality You can get less – – the Ryze Tello, for example it costs only $99 PS99.
What features should you consider? If you're searching for drones that automatically track you, without having to be controlled in any way search for one that has an 'follow me' feature. The models that offer this feature are those from the DJI Air 2S, DJI Mavic Air 2 and Skydio 2 (US-only).
For beginners, it's worth checking for drones that have automated flight modes, such as DJI's Intelligent Flight modes, which are able to execute'set piece' movements without the need for flight abilities. The majority of drones utilize your phone as the controller. It plugs into a pad included to control the drone. iOS as well as Android phones are typically compatible, but it's important to making sure that the drone you choose is compatible with your phone.
Another thing to consider is the drone laws local to you in your region. In some areas drones that weigh less than 250g do not need registration with the local civil aviation authorities. This could mean a slight cost savings. The majority of laws require you to keep your drone within a certain the line of sight it is possible that you won't be have the ability to use its full potential.
Photographers, for their part, need to consider looking for raw image support. This isn't so common on drones than cameras but is now standard on the latest models. For instance, the DJI Mini 2, for instance, supports raw images however, the DJI Mavic Mini predecessor doesn't.
Which brand of drones is best?
For a long time, DJI has been the top brand for drones equipped with cameras. This remains the situation but DJI's Chinese company has come under scrutiny in recent years in the form of the increased competition as well as from a dispute to government officials. US government. It hasn't affected our view on whether or not to purchase an DJI drone (as you'll read in the previous paragraph) however it's nice to finally have positive rivalry in the drone market.
The US, Skydio has become the most popular brand in terms of obstacle-avoiding capabilities, making it an excellent choice for those looking for "follow me" functionality. In recent times we've been awed by the products of Autel, a different Chinese business, Autel, which is creating very impressive DJI competitors at varying prices. At present, we believe that DJI is the most reliable overall drone brand however, there are many options, especially when you have a particular reason to fly a camera. It does have a handful of intelligent flight modes.
Why pick an alternative to DJI drones?
It's not a secret there's no doubt that DJI quadcopters are among the most powerful available in the world There's virtually no rivals in the drone market If that's the case then why would you search for alternatives at all?
There are several reasons you might want an DJI alternative that may possibly be the best drone for your particular requirements.
Here are the major motives:
DJI sells expensive drones
In order to be a DJI client, you must have at minimum $500 in your wallet for all purchases at the lower range. If you're in search of an easy-to-use drone for beginners or even a top camera and less expensive, DJI may not be a good fit within your budget.
Industrial needs
DJI hasn't yet entered the long-range or long-life battery drone market, but there are usually fixed-wing drones that are able to perform long-range mapping missions , or even to meet specific agricultural requirements.
Want to support local companies
Companies such as Parrot located in the US could be a fantastic option if you're trying to support various companies that are located in your own country. However, because DJI is located in China and is based in China, it could dissuade some from buying their products.
Their drones don't entirely fit your needs
Although DJI has recently increased their drone fleet, including less expensive drones, like their DJI Mini 2 and even an FPV drone, they aren't covering areas like waterproof drones or beginners FPV quads and fixed-wing drones.
Conclusion to DJI alternatives
The decision of whether or not to buy DJI drones is a personal one, but we are very happy to continue recommending its class-leading models as usual. Right now, models like the DJI Air 2S remain the best in their class, and we see no reason not to recommend them to anyone looking to step into aerial photography.
The list we have included today is designed to guide you on a journey with drones. It's a fact that the best of the top drones come with costs that range from $150 to $250. There are a lot of top drones on the market We hope we can make this list. We've selected the top models you need to take into consideration for a reasonable consumer electronic cost.