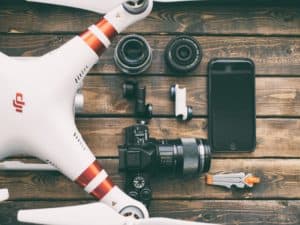 7 tips to buy drone
Drones can fly sky-high at your command, and there are drones with a variety of features – or a lack thereof – to best suit your needs and budget. Typically, the higher the price is, the stronger the drone's performance is and the more features it has. Less expensive options are easier on your budget, especially if you just want one for fun and don't care about extra frills. Luckily, the DJI Phantom drone line encompasses a vast combination of features, performance and price points.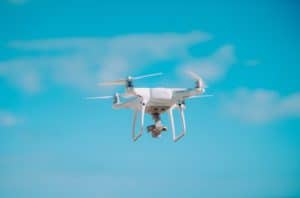 DJI's Phantom line of drones includes premium high-performance consumer drones, packed with top-of-the-line video and photo hardware, advanced multi-directional obstacle sensors and extended flight ranges and durations. These drones are powerful, but aren't for those that are faint of budget. If you do have a budget to stick to, the DJI Phantom line also has several units under $500. Though these units are older models – some of which are only available for purchase through third-party retailers like Amazon – they still offer great performance and comparable specs to their costlier counterparts. In this article, we'll guide you through the DJI Phantom drone line, discussing which drone works best for a variety of pursuits.
Drones come with a wide array of features, which vary depending on the individual unit. If you don't have a price point or any specific features in mind, here are some of the most important features to keep in mind as you decide with drone to buy. Let's see our 7 tips to buy drone:
Controls
Most drones rely on either a remote controller or a companion mobile phone app to control it. With either controller type, you can program a flight path for your drone or guide it manually. By using the display on the remote controller or your phone, you can see a live view of what the drone's camera can see and capture videos or still images. Some models can even log flight data. Though you can technically send your drone off into the distance, it is recommended that you always stay within sight of it for safety reasons. Depending on which country you live in, there may also be restrictions on how high you can fly a drone, despite how high the drone is capable of flying. It was first of 7 tips to buy drone
Camera Basics
Some drones have integrated cameras, and others have mounts for external cameras, like GoPros. The most important things to look for in a drone with a built-in camera is a large CMOS sensor and the capacity to take high-resolution photos and video. Most drones have sensors with a total pixel count of at least 12 megapixels, with some having up to 20 megapixels. The greater the resolution is, the sharper and more detailed the image can be. A high-definition image – one that has a resolution of at least 1080 x 1920 pixels – looks better to the human eye than a low-resolution image, which can look blurry and make it difficult to see details clearly. If producing high-quality photos and video is important to you, newer models like the Phantom 4 Pro allow for multiple image sizes, aspect ratios and photography or video recording modes and formats. It's a second of 7 tips to buy drone.
Most drones these days can record video in high-definition, 1280 x 720 pixels, though some are capable of recording in ultra high-definition, also known as 4K, which is 4096 x 2160 pixels. Additionally, the Phantom line of drones gives you multiple options for frame rates, with models able to provide anywhere from 25 frames per second (fps) all the way up to 60. The higher the number of frames per second (fps) is, the smoother the video looks. If you just want to see a general image from your drone, neither the resolution nor the frame rate matters, but if you're wanting to shoot a video or a high-quality image, these factors should be amongst the first that you consider.  Faster bitrates allow you to transmit images more quickly along a digital network, which can impact the live view some drone remote controls offer.
There is also a variety of ranges available for a drone's field of vision (FOV). Generally, you'll see a field that's anywhere from 85 to 110 degrees wide. On high-end drones, you'll see more detailed information, indicating field of vision ranges for looking forward, backward and downward.
Gimbal
Though the term may be unfamiliar, the gimbal is an essential part of any camera drone worth its weight. Simply put, the gimbal allows for image stabilization, which is particularly useful if it's windy outside or you don't have a steady hand to guide the drone manually. The gimbal works on three axes – pitch, roll and yaw – to keep your image steady in all directions. Different drones might have different controllable ranges and angular speeds, so consider these ranges and how windy of an area you'll be flying in before purchasing a drone.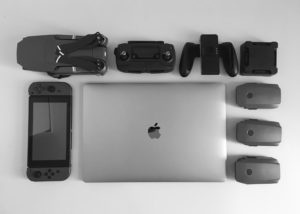 Flight Time & Battery Life
Flight time is an important feature to consider, depending on your specific needs. A longer flight time means, of course, longer flights, but there can be tradeoffs. Longer flight times generally mean the battery takes longer to charge, and longer times are often only available in more expensive units. However, DJI drones are compatible with exchangeable batteries, allowing you to swap out batteries in under a minute and send your drone back out. You'll have to buy additional batteries separately.
Connectivity & Streaming
Many drones offer a variety of connections for streaming. By connecting to mobile or GSM network, you then allow a camera drone to stream from almost anywhere, though there may be additional costs related to doing so. Wi-Fi generally costs less, but you must have connectivity for it to work. Some drones include a Wi-Fi repeater, which usually allows for connectivity up to about 350 feet from your phone.
DJI Phantom drones are automatically connected to either their remote controller or your mobile phone via the companion app. Amongst other features, this allows you to see a live view of whatever your drone can see, provided it has a built-in camera. This feature makes it easy to take photos or to preview photos or video before you upload and share them.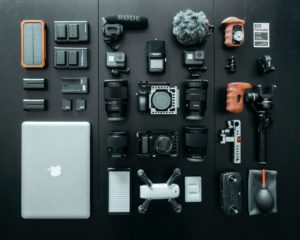 Accessories
DJI Phantom drones generally come with all the basics you'll need to start flying right out of the box. Along with the drone, you'll also receive a basic case for travel and storage, a remote controller, a battery, propellers, a microSD card and a myriad of cords. Of course, you can always order additional or better accessories, like a backup battery, a larger microSD card, a stronger carrying case or back-up propellers. Be cautious of buying third-party replacement components, as they may not be a good match and cause issues with or prevent flight. It's a 6 tip of 7 tips to buy drone.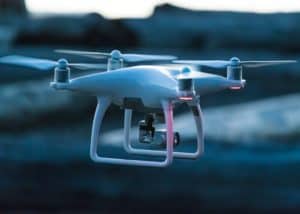 Warranty & Customer Support
Warranties for DJI Phantom drones vary depending on the model as well as the specific part of the drone in question, such as the motor, camera unit or battery. Typically, warranties for this line last between six and 12 months, though certain drone components – frames and propellers – generally aren't covered by warranty. It is worth noting that drone warranties rarely if ever cover accidental damage, as is specified directly on the company's website. For more information, you can contact DJI's customer service directly, via live chat, email or phone, or you can peruse the FAQs section or community user forum on the company's website. This was ultimate of 7 tips to buy drone.
As a bonus of my articel 7 tips to buy drone, I want to show you an amazing video from drone: